International AIDS Day 2006: Sharing Affluence And Life On Earth Through Creative, Managed, And Non-Destructive Capitalism
"The cost of treating children infected with H.I.V. and AIDS is poised to plummet next year, under a deal announced today between two Indian drugmakers and former President Bill Clinton's foundation.
Cipla and Ranbaxy Laboratories agreed to make 19 different anti-retroviral drugs designed for children available at an average price of 16 cents a day, or $60 a year, which is about 45 percent lower than the lowest current price, the Clinton Foundation said in a statement.
Because not everyone has access to the current lowest price, the plan will actually translate into a four- to six-fold cost reduction for many children, said Stephen Lewis, the United Nations special envoy for H.I.V. and AIDS in Africa.
The prices will be available to 62 developing countries and will lead to the treatment of an additional 100,000 people in 2007, the statement said.
A $35 million grant from Unitaid, a drug-buying consortium formed in September by France, Brazil, Chile, Norway and the United Kingdom, will be combined with $15 million from the
Clinton Foundation
to assure the Indian drugmakers a volume of sales high enough to justify the lower prices." ...
Anand Giridharadas "Clinton's Foundation Brokers Deal on AIDS Drugs" New York Times November 30, 2006
http://www.nytimes.com/2006/11/30/world/
asia/01aidscnd.html?hp&ex=1164949200&en
=5fd8e9e2f9eac08f&ei=5094&partner=homepage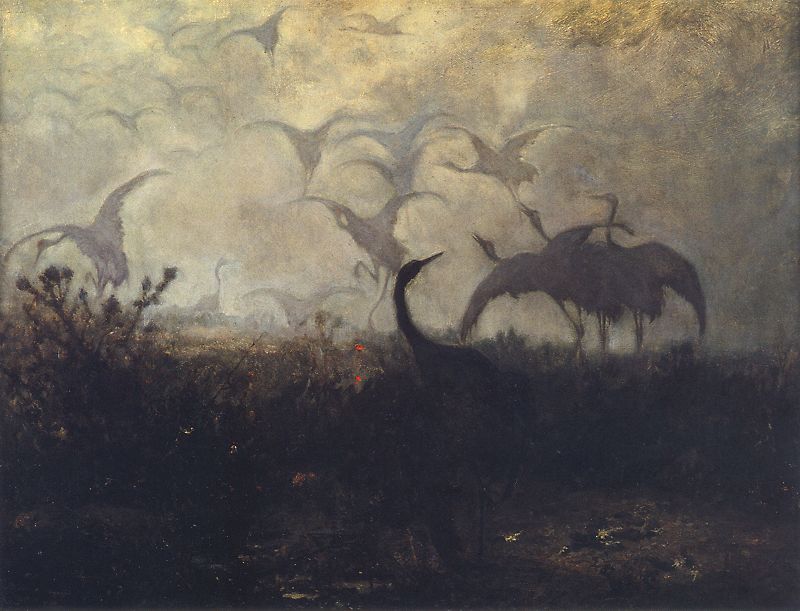 Józef Marian Chełmoński
(1849 – 1914)
Odlot żurawi [Swans Alighting]
1870. Olej na płótnie. 44 x 58 cm.
Muzeum Narodowe w Krakowie
[National Museum in Krakow].
[Click on image to enlarge.]
Image credit: via www.pinakoteka.zascianek.pl. With thanks.