Audiences Up Only Nine Percent Over Disenlightenment Years, MET's Gelb Declares Efforts To Sustain And Re-Energize The Art Form Have Only Just Begun
New York, NY (February 27, 2007) — "Two thirds of the way through his first season as General Manager, Peter Gelb – together with Music Director James Levine – announced plans today to expand the number of new productions, high-definition transmissions into movie theaters, and other audience outreach initiatives for the 2007-08 season. The season will open on Monday, September 24, with Mary Zimmerman's new production of Donizetti's Lucia di Lammermoor, conducted by Maestro Levine. With the company currently experiencing a dramatic increase in attendance – the first box office improvement in six seasons – Gelb announced plans for seven new productions in 2007-08, the most new productions the Met has presented in one season since its inaugural 1966-67 season at Lincoln Center. He also announced plans to increase the number of high-definition transmissions into movie theaters from six to eight, a reflection of the significant success of this new method of reaching opera lovers throughout the world.
"So far, this season has proven that with a recipe of dynamic new productions, great singers, and a more direct approach to the public, it is possible to reach a wider and younger audience, while still serving our loyal audience," said Gelb. "However, our efforts to sustain and re-energize the art form have only just begun."

James Levine said, "The successes we have had in increasing the audience and reaching out to a broader public have brought a new exuberance to the artistic offerings as well. The variety and richness of next season's repertory is extraordinary, and the sense of excitement and anticipation in the company is palpable."
The Met's efforts to revitalize its repertory next season begin with an accelerated schedule of new productions. In addition to the season-opening production of Lucia di Lammermoor (September 24), which stars Natalie Dessay, the other new productions include Verdi's Macbeth (October 22), staged by former Royal Shakespeare Company artistic director Adrian Noble, conducted by Levine, and starring, Željko Lucic and Andrea Gruber; Gluck's Iphigénie en Tauride (November 27), directed by Stephen Wadsworth and conducted by Louis Langrée, with Susan Graham in the title role and Plácido Domingo as Oreste; Humperdinck's Hansel and Gretel (December 24), the Met's winter holiday presentation, in a new staging by Richard Jones and conducted by Vladimir Jurowski, featuring Christine Schäfer and Alice Coote; Britten's Peter Grimes (February 28), directed by John Doyle and conducted by Donald Runnicles, featuring Neil Shicoff and Anthony Dean Griffey in the title role; Philip Glass's Satyagraha (April 11), directed by Phelim McDermott of London's Improbable theater company in the work's Met premiere, conducted by Dante Anzolini, with Richard Croft, as Gandhi ...
New Initiatives
"Metropolitan Opera: Live in HD" expands within New York City this season through a partnership with the New York City Department of Education and the Metropolitan Opera Guild. The Met will transmit at least four opera performances into public schools in all five boroughs at no cost to the schools. "We are thrilled that our students will have the opportunity to experience the magic of opera through these live broadcasts, thanks to the generosity of the Met and their corporate sponsors," said Schools Chancellor Joel I. Klein. "Our partnership with the Met will help support and augment arts education programs in our schools."

The Metropolitan Opera Guild will partner with the Met and the NYC Department of Education to develop educational materials for teachers, students, and families.
Corporate sponsors will partner with the Met to make important contributions to this program: Panasonic will provide "1080i" HD projectors to each school; Dolby Laboratories' Production Services will calibrate each auditorium and install specialized audio decoding equipment; and Bell Express Vu will provide "6100" satellite dishes and receivers for each location.
Great Performances at the Met, the new television series from Thirteen/WNET that is broadcasting all six of the performances in the current HD series, continues its partnership with the Met next season. The 2006-07 series of six broadcasts marks the most complete Met operas ever presented by PBS in one season.
The programs, delivered to movie theaters in Dolby Digital 5.1 with surround sound ...
Opera companies around the country have joined forces with the Met's HD transmission series to promote live opera in their communities, including Arizona Opera, Atlanta Opera, Opera Pacific, Sacramento Opera, Opera San Diego, Connecticut Opera, Michigan Opera Theater, Minnesota Opera, St. Louis Opera, Opera Cleveland, Knoxville Opera, Greensboro Opera Company, and Dallas Opera.
...
Principal Guest Conductor Valery Gergiev revisits two operatic masterpieces by Prokofiev, both of which he introduced to the Met in recent seasons. The Gambler, a gripping interpretation of Dostoyevsky's tale of compulsion, addiction, and madness, is brought to life by many of the same Russian singers who were hailed for their portrayals at the opera's Met premiere in 2002, notably Vladimir Galouzine and Olga Guryakova leading the cast. The epic War and Peace – the biggest production the Met has ever done – also returns under Maestro Gergiev's baton. Prokofiev's moving adaptation of the Tolstoy novel calls for 68 solo roles and numerous extras to depict the battles and balls of Imperial Russia. The predominantly Russian cast includes several debuting artists, and American bass Samuel Ramey will repeat his acclaimed performance as General Kutuzov."
Full Press Release
The Metropolitan Opera Web-site
*
With thanks to Alex Ross and
The Rest Is Noise
for the MET attendance statistic in headline.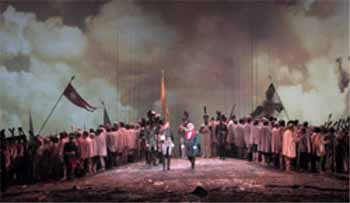 The Kirov/Mariinsky Opera Production of Prokofiev's War and Peace [Peace and War]: Warfare where it belongs ... on the operatic stage.
Photo credit: www.mariinsky.ru Kirov, Mariinsky Opera, [St] Petersburg, Russian Federation. With thanks.