Mr Cogito Adds Willy Decker's "Boris Godunov" To Florian Henckel von Donnersmarck's "Das Leben der Anderen" On His Future Net-Flix List
..."[German Director Willy] Decker also gets another chance to shine, in a dazzling staging of Mussorgsky's stark and brooding early version of "Boris Godunov" for Barcelona's Gran Teatre del Liceu (TDK DVWW-OPBORIS). "Boris" operates on a much grander scale than "Traviata," but Decker's skill at visual storytelling -- not least in the sweeping movements of his large chorus -- is, if anything, even more impressive here. And he's not without his big props. Instead of a kinky loveseat and an eight-foot-wide clock, Decker's visual motifs of choice become photo enlargements of the child Czar Dimitri -- which pop up relentlessly to haunt Dmitri's murderer, the current czar, Boris -- and a two-story-tall, gilded wooden chair that's carried aloft like a national treasure by a sea of workers, and hoisted up or brought low depending upon Boris's political standing.
With a Cold War Soviet design that renders the drama all the more immediate, this production also has a strong presence at its center. Finnish bass
Matti Salminen
-- so arresting with that inimitable, bear-like yowl of a voice -- has never been the most emotionally communicative of actors onstage. But here, his weathered, implacable face is exploited beautifully to suggest the opacity of a middle-management drudge out of his depth in handling ill-gotten power, and lurching bleary-eyed from one decisive historical moment to the next. His performance accrues weight and tragic dimension quietly through the opera, rather than seizing attention with the kind of scenery-chewing acting that's become lingua franca among basses in this role." ...
Joe Banno "A Dramatic Flair for Opera: Vocals, Visuals Elevate DVDs" Washington Post February 25, 2007
http://www.washingtonpost.com/wp-dyn/content/
article/2007/02/23/AR2007022300453.html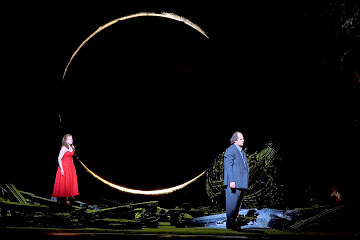 Still from German opera director Willy Decker's production of Bela Bartok's only opera, Bluebeard's Castle.
Photo credit: (c) www.musicweb-international.com. With thanks.