Paging Solar-Powered Boats: A Diminished Role For Jet Travel As The International World Integrates Technologically And Culturally - And Partially?
"Flying by jet may become uncool. I'm concluding that based on early signs I've picked up this year at the [elite World Economic Forum] in Davos [Switzerland]. When you fly, you become a polluter. And for the first time, that reality may be sinking in.
Last night at a meeting of top journalists and leaders of media companies, I talked to Peter Gabriel, the rock musician and social activist. I was struck by how he started talking, spontaneously, about his worry that global understanding could wane as people fly less.
Gabriel says a number of his friends are starting to take significantly fewer trips by airplane because they've come to believe that flying is environmentally irresponsible. The energy used per passenger mile by someone in a jet is generally far higher than in any other form of transportation.
Gabriel was the second person I've talked to in Davos this week who, out of the blue, brought up the notion that flying may wane. An environmental activist CEO who lives in London separately told me, unprompted, that he is convinced flying may significantly diminish within five years as people get more and more worried about global warming.
Gabriel, who has devoted much of his career to promoting world music, has a specific concern, even as he sympathizes with the desire to fly less. Music is a bridge to cross-cultural understanding, and encourages our interest in learning more about others, something he believes is deeply important. He is concerned that our perception of others and sense of all being in this world together could change for the worse if we travel less. But it sounded to me like he believes it could easily happen." ...
David Kirkpatrick "The Peak: Dispatches from the
World Economic Forum in Davos
" CNNMoney.com January 29, 2007
http://money.cnn.com/blogs/davos/2007/01/fear-of-flying.html
*
Free, Web-based Carbon-Offset Calculators
Conservation International
World Land Trust
David Suzuki Foundation
Climate Care
The Carbon Neutral Company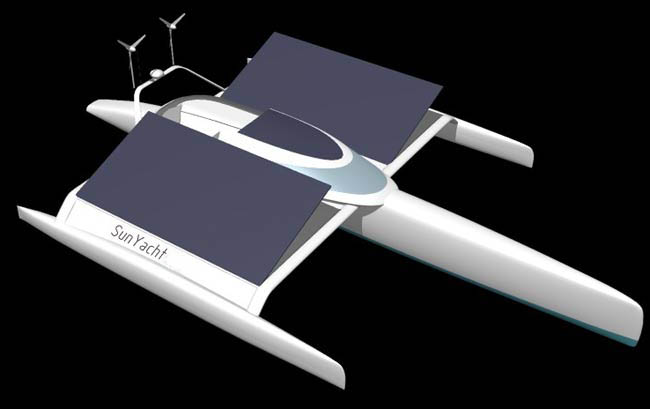 The Solar Navigator.
So far, most prototypes of solar-powered boats are fairly small, emphasizing the importance for excellent and swift terrestrial rail transportation systems, in order to save present-technology petroleum-based air flight more for trans-oceanic transport.
Furthermore, the integration of Eurasia will require prompt correction of the rail-gauge problem isolating the eastern, non-EU part of
core Eastern Europe
, as defined by the United Nations, from the 'advanced' Western Europe and East Asia [By the end of 2008, the three most 'advanced' nation-states in the world, in terms of GDP, will be the United States, Japan, and China. China will surpass Germany in 2008, in economic size.]
Photo credit: (c) Nelson Kruschandl. All rights reserved.
www.solarnavigator.com. With thanks.