Kyiv, Ukraine's Troeshchyna District: An Emerging International Migrant Neighborhood
"Tens of thousands of international migrants from areas not traditionally associated with Ukraine began to arrive in Kyiv in the mid-1990s. Largely from South Asia, Southeast Asia, the Middle East, and Africa, many of these new, "non-traditional' immigrants have settled in Ukraine's capital
Kyiv
. The city's
Troeshchyna district
subsequently became home to the burgeoning community of international migrants. Afghan, Vietnamese, and African merchants and traders have established the neighborhood's vast "informal' market on abandoned industrial land along the city's boundary after police raids had closed down the Ukrainian capital's primary market at
Republican Stadium
in April 1996. [Troieschyna (Ukrainian: Троєщина) is a historical neighbourhood, part of the Desnianskyi Raion, on the left bank of Kyiv, the capital of Ukraine.]..."
"Kyiv's Non-Traditional Immigrants," Blair Ruble, Director,
Kennan Institute
,
Woodrow Wilson International Center for Scholars
. Lecture February 5, 2003 at the
Watson Institute for International Studies
, Brown University.
Economic Potential of Regions of Ukraine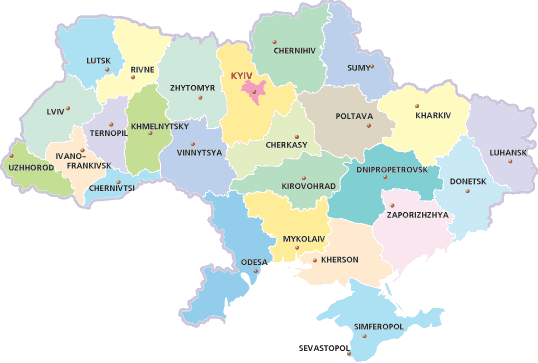 [Click on top image for enlargement.]
Image credits: Top two images from
Ukraine Today Gateway
www.rada.com.ua. Bottom image from Wikipedia Commons. With thanks.
*
Model of the proposed new roof for Kyiv, Ukraine's
Olimpiysky National Sports Complex
(also known as Olympic Stadium, Republican Stadium). The complex will host the final of
Euro 2012
[UEFA European Football Championship]. Poland and Ukraine's joint bid to host Euro 2012 was accepted on April 18, 2007, in
Cardiff
,
Wales
.
[Click on image for enlargement.]
Image credit: Copyrighted image via Wikipedia Commons used under Fair Use Provisions. With thanks.