Russian Federation And President Putin Seek To Reverse Dramatic Depopulation Through Repatriation
"Russian President Vladimir Putin on June 26 gave his approval to a government program encouraging what it calls "compatriots" living abroad to return to Russia. The six-year plan, under which repatriates will receive cash and social benefits, is part of an effort to reverse the country's dramatic population decline.
When Lira Goldman heard about the repatriation scheme, she was thrilled. Lira, a 29-year-old Russian Jew, left Russia in 1999 for Jerusalem, where she now works in a jewelry shop. She is happy in Israel and has no intention of returning to Russia, but she says she would nonetheless like to keep this option open -- that's why she welcomes the repatriation plan.
"Actually, it's a beautiful step. For the first time, they've thought about their citizens, even former citizens, because Russia has never cared for people," she says.
"There are people who come back [to Russia], you never know how life will turn out. Russia is still our motherland, we cannot be separated from it," Lira adds. ...
Besides offering cash and social benefits to repatriates, the program will also help those who gave up their Russian citizenship get it back....
Speaking on June 27 to a meeting of Russian ambassadors in Moscow, President Putin stressed the need to ease citizenship procedures and called for the speedy implementation of the repatriation scheme.
"We assumed that the current decisions were sufficient in this sphere. But strangely, when talking to citizens via near-live television link, I was surprised to find out that some of our compatriots were offended by our position, the way in which we work with them abroad, that they were stumped by our actions regarding the extremely difficult conditions to obtain Russian citizenship," Putin said. "This is strange, because Russia needs an inflow of immigrants."
According to official figures, Russia's population, now 143 million, shrinks by some 700,000 people each year due to high mortality and a low birthrate. The authorities have long been trying to bring back ethnic Russians from outside Russia to help reverse the trend.
The scheme approved this week, however, makes no direct reference to ethnic Russians. A Kremlin spokesman said the plan targeted "holders of Russian passports, Russian-speakers with dual citizenship, or people who are planning to apply for Russian citizenship."
Putin has ordered the creation of a special commission to run the program. In a parallel move, the Federal Migration Service plans to open branches in all former Soviet republics, the United States, Germany, and Israel to attract potential repatriates.
Demographers, however, are cautious about the repatriation plan. Andrei Volkov, a leading demographer at the Russian State Statistics Committee, says the plan could slightly improve the country's demographic picture, but only if the state carefully studies the needs of the population it wishes to repatriate." ...
Claire Bigg "Russia: Moscow Attempts To Entice Russians Back Home" Radio Free Europe/Radio Liberty June 28, 2006
http://www.rferl.org/featuresarticle/2006/06/
0ea66aca-baf8-4dab-8f42-93292d0a7622.html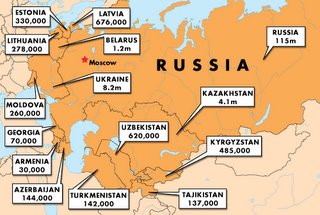 Russia And Its Neighbors Beyond the Russian Empire, the Soviet Union, and the Union State ... [Click on image for enlargement.]
[There must be a non-Baltic summer intern working in Radio Free Europe's graphics department.]
RUSSIANS OUTSIDE OF RUSSIA: A total of some 30 million ethnic Russians remain in the republics of the former Soviet Union, including large diasporas in Ukraine, Kazakhstan, and Belarus. This historical legacy has often been a source of tension between Russia and its neighbors. "Support for the rights of compatriots abroad is a crucial goal," Russian President Vladimir Putin said in his April 2005 state-of-the-nation address. "It cannot be subject to a diplomatic or political bargaining. Those who do not respect, observe, or ensure human rights have no right to demand that human rights be respected by others."
Image and caption credit: Radio Free Europe/Radio Liberty. With thanks.